Big Kids Explore Space Science With Their Fort Magic Kit
Posted February 12, 2021 by Fort Magic
Did you know that careers in STEM-related fields are the fastest-growing jobs with growth expected to remain high? Did you also know that Fort Magic building kits are a great way to infuse play with learning and building on those STEM skills? Fort building is a great way to teach kids of all ages about outer space with rocket ships, space stations, UFOs, aliens, and whatever else they can think of. Here are some out-of-this-world ideas to get your kids excited about space and maybe think of a future career.
Rocketship Space Fort
Does your child dream of being an astronaut one day? Maybe they want to walk on the moon, visit another planet or look for aliens. A rocket ship fort is a perfect way to get the imagination flowing as well as helping them with STEM skills they can use in the future.
A rocket ship design is easy to build with a building kit. You can have your kids draw a rocket ship design or use the manual provided to come up with some ideas. After you have your design drawn out, work together to get all the pieces you will need. Then simply snap your pieces together until your rocket ship is life-sized. You can purchase a cover separately or you can use old sheets and towels to cover the outside of your rocket ship. Get creative! Add windows and portholes as well as a door to escape.
Looking for a friend to join in the fun? What about an extraterrestrial one? Using your kit you can build a stick figure alien friend who can join in on the adventures. Use bright colored sheets to cover him and add eyes and a mouth with construction paper. Give him a name and get ready to have fun.
Now you are ready for blast off!
UFO
A UFO, or unidentified flying objects, are things that are caught flying in the sky, usually close to Earth. They are considered unknown entities that are unclassified and unidentifiable. The United States Air Force coined the term in the 1950s when they were able to monitor and record the appearance of mysterious things in the sky. World UFO day is even celebrated on July 2.
Have your child read a book about UFOs and do some research on different sightings. They can appreciate the impact that UFO sightings have had on our culture as well as spark some curiosity of the unknown.
You can even have them build their very own UFO and act like creatures from another planet. You can have an endless blast with your children making aliens looking costumes and ways for them to travel.
Space Station Fort
A good space fort has got to have the latest in space technology. You and your kids can build robots out of soup cans and create a control room and console out of a cardboard box and shiny foil paper. Add these to the space station fort you have built and you are ready to land on another planet.
Stars and Planets
You can turn any space fort into an educational and fun museum for your kids. Make handmade mobiles of planets, grab some plastic glow in the dark stars and decorate the inside of the forts. Read up on the different planets and add fun facts to the walls of your fort for the kids to read. Making learning fun is easy when you have a fort kit to help.
Another idea is to cover your fort with thick material and then use a piece of cardboard for the roof. Next, poke small holes in the cardboard and pop a light from a strand of lights into each hole. When it gets dark out, crawl inside and enjoy gazing at your own star show.
Intergalactic Designs
Does your family love Star Wars? You can watch the movies together and then build your very own intergalactic fort and travel to a galaxy far away.  Or maybe build your fort and watch all the movies while laying inside.
Have your kids sketch out their favorite spaceship from the movies. Next, see if they can build it with a fort building kit. Grab a strand of lights to add to the inside and some fake knobs and buttons to add to the creativity. If your children have a favorite Star Wars costume have them wear it and let the imagination run wild.
If they are struggling with a design idea try to start with the one that is easier such as the TIE Fighters and X-wings. These are easier to recreate into forts. The possibilities are endless and you can create whatever intergalactic design you can think of!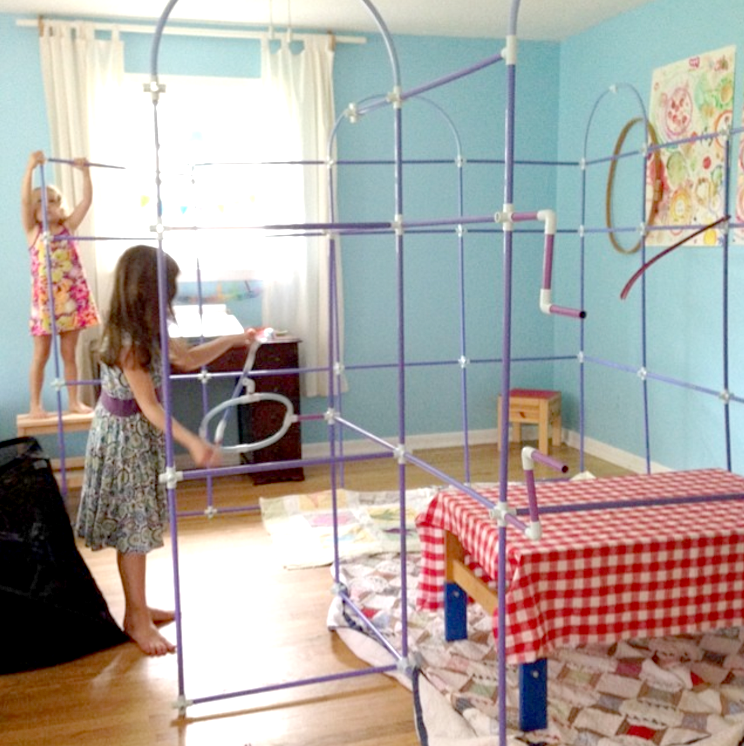 Learning About Space
You can also use this opportunity to teach your kids about outer space. By building a rocket ship they can blast off into space and see what other galaxies look like. Talk to them about astronauts and their job duties. With a space station, you can have them learn about what life is like in space and if anyone can survive on other planets. Checkbooks out from your local library to read together or watch movies that tell you all about space.
Looking to have more fun? Have some space food on hand, everyone likes moon pies and juice. Grab a telescope and check out the stars and talk about each constellation and see if you can name them off.
We know your and your children will love learning about space and other planets while building with their Fort Magic Building Kits. What will your family build next?
Photo Credits:
Fort Magic Customer Photos via Facebook:  Visit our Fort Magic Facebook page to see our customer creativity shine with fun pics and videos of families enjoying their Fort Magic kit during playtime.
Fort Magic Customer Photos via Instagram:  Visit our Fort Magic Instagram page to see our customer creativity shine with fun pics and videos of families enjoying their Fort Magic kit during playtime.