Building Confidence & Creativity With Fort Building for Kids
Posted July 23, 2018 by Fort Magic
For generations, kids have built forts to have a fun escape from the adult world. And parents appreciate this safe way for children to have their own space. Beyond having a great time, fort building offers many educational opportunities. Discover how fort building for kids can build confidence and creativity to fuel their future success!
Get Started with a Plan
It takes confidence and creativity for kids to create a fort building plan. First, they need to decide what type of fort to build. Let their imaginations run wild. A fort doesn't have to be a house or castle. It can be a pirate's ship, bicycle, or ferris wheel, too! Then, the kids need the materials to make it happen. Start with a Fort Magic kit and some material, such as scarves or sheets. And now everyone is ready to let the building process begin!
A Think Tank for Kids
Having an idea and the right materials is a start. But now the kids have to make their vision a reality. Encourage them to brainstorm to get ideas and learn what a think tank is about. Kids discover the magic of teamwork, problem-solving, and getting past creative hurdles. And they also find ways to resolve the inevitable squabbles that go along with a creative project!
How Parents Can Help Kids Get More Confidence
Sometimes well-meaning parents can do too much, which doesn't give kids an opportunity to learn from their mistakes and gain the confidence that comes with finding solutions. Fort building is the perfect time for parent and kids to learn about confidence-boosting activities! Here's how parents can help:
Resist the urge to fix everything for them as they put together the fort. When they figure it out for themselves, they get more confident.
Let kids make independent decisions to develop a "can-do" attitude – plus, this encourages creativity!
When children engage in activities that require thoughtful effort for completion, they are developing problem-solving skills – give them a chance to fix their mistakes.
Being part of a fort building team encourages kids to help each other and enjoy the benefits of teamwork firsthand.
Support Creativity in Kids
Fort building is an excellent way to support creativity in kids. They can build whatever they want. And when they finish, they get to enjoy their handiwork. Here's how fort building helps kids develop a creative flair:
Fort building a simple activity yet teaches complex STEM skills, interactive skills, and more.
Free time, such as building a fort, gives kids the freedom to think beyond the obvious and develop their own visions.
Having a designated space, such as a fort, creates a place for kids to just be themselves.
Kids use their senses during fort building activities.
Playing With Your Kids
Spending time with adults is another way kids learn about confidence and creativity. Once the fort is done, compliement their work. Be specific rather than saying something general, such as "this is the best fort in the world." Tell them why the fort is amazing so they develop those ideas in the future. Let them read to you or give you tasks to do in the fort. And when they ask you to leave – don't be offended! Give them independent time to appreciate their creation.
A Gallery Fort
Want to keep the creativity flowing? Help them turn the fort into an art gallery. Give them plenty of paper, pencils, crayons, and clay to craft their own artwork. Encourage them to write stories or poetry. Then have a gallery opening where they can showcase their work to parents and neighbors. These informal presentations are fun and help kids feel confident about sharing with an audience.
Take It Down and Start Again
When kids create something that inspires pride, they might want to keep it forever. Give them a time when the fort needs to come down. Let them know this gives them a chance to try something new and different. Learning to let go of the old project and embrace a new one is a confidence builder!
How do you use fort building to get your kids in a creative mood? How has fort building helped your children become more confident in life and at school? Share your thoughts with us below!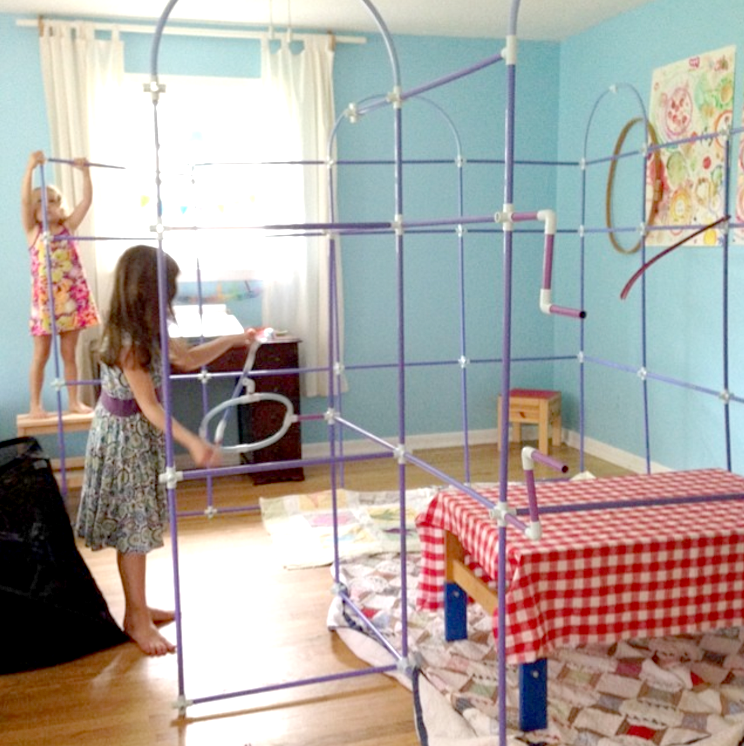 Pin It for Later!
Photo Credits:
The Artful Parent Blog: One of our absolute favorite creative blogs for children and families. The Artful Parent blog is filled with simple ideas to fill your family's life with art and creativity. A must see blog for sure.
Rave & Review Blog: The fun Rave & Review blog is where you'll find loads of sharing on your favorite products for parents and grandparents all the way to newborns.
Fort Magic Customer Photos via Facebook: Visit our Fort Magic Facebook page to see our customer creativity shine with fun pics and videos of families enjoying their Fort Magic kit during playtime.
Fort Magic Customer Photos via Instagram: Visit our Fort Magic Instagram page to see our customer creativity shine with fun pics and videos of families enjoying their Fort Magic kit during playtime.