Ideas to Build a Space Fort to Celebrate World UFO Day
Posted July 1, 2017 by Fort Magic
World UFO day is almost here, so do you know what that means? July 2 is a great day to have fun and celebrate everything about the great beyond! One way you can get your children and the whole family involved in a UFO-themed activity is by building a space station fort. All it takes is a Fort Magic fort building kit and plenty of out-of-this-world imagination!
What is a UFO?
A UFO, or unidentified flying objects, are things caught flying in the sky, usually close to the planet Earth. They are considered unknown entities that are unclassified and unidentifiable. Something is labeled a UFO if it can't be named as a natural occurrence or an expected phenomenon.
The United States Air Force coined the term UFO in the 1950's when they were able to monitor and record the appearance of mysterious things in the sky. World UFO day was created in the early 2000's and designated to July 2. This day was chosen as a reference to the connection of Roswell with alien activity.
On this awesome day, we take the time out to appreciate the profound impact that UFO sightings have had on our culture and our curiosity with the unknown. People's sightings of strangeness in the sky have spawned books, movies, video games and television shows. Today, let's explore our own fun and curiosity with science fiction through building a space fort!
Educate and Celebrate with Fort Building
You may not see a big glowing disc floating through the sky some night, but you can create your own intergalactic base. Turn your fort into a cool, futuristic place to discover, explore and educate your family and your children.
Is it going to be a ship that travels light-years through the galaxy? Or will it be an intergalactic museum housing all the amazing things you've collected on your journeys to other worlds? Maybe your fort is a space base on some distant planet. It's the only shelter for you and your team of adventurers in a new environment. Have you made contact with aliens? Are they friendly and technologically advanced?
You can be as creative and as educational as you want. This is all about having fun and playing around. As you think of these ideas your mind will open up to possibilities; as big and as open as the final frontier.
Make sure you buy a few of these tools to create and decorate your fort. You will want to have construction paper of multiple colors, tissue paper, cardboard, and stencils. Silver and gold foil paper would be good for that futuristic look you're giving to your fort. You will need pencils, erasers glue, crayons, chalk, different kinds of paints and paintbrushes. It will be good to have a pair of scissors on hand, and maybe a smock to keep yourself from getting messy. Lastly, you will want cotton balls, paper towel rolls, toilet paper rolls and plastic googly eyes.
Have You Made Contact?
Does your space station have a unit of little green men? Or are you and your children pretending to be the outsiders from space? You can have an endless blast making alien looking costumes and decorations.
Try using balloons, cotton balls, construction paper and crayons to create a little galaxy pal. How many eyeballs does the little guy have? Was he born with a few extra arms?  Oh my goodness! Your sweet little son or daughter was masquerading the whole time! You can make a costume that will transform your children into those friendly visitors from other worlds.
Spaceships and Space Stations
A good space fort has got to have the latest in space age technology. You and your little one can build robots out of soup cans. Or you can create a control room and a console out of cardboard box and shiny foil paper.
Perhaps you've just landed on another planet and your fort is the only shelter you have as you explore an unknown world. Your child can step foot out into the unexplored world to come, see and conquer, and then bring the treasures of the stars back into their little base for safe keeping.
Stars and Planets
You can turn your space fort into an educational and fun museum for your children. Hanging up handmade mobiles of planets and stars with information about all we've discovered outside of Earth is a great way to engage and to give your child some knowledge. Have an alien craft contest to see who can create the most outlandish UFO.
Use Your Imagination
This blog has been a huge exercise in the exploring your creativity. The possibilities of building a fort in celebration of World UFO day are endless. Even beyond July 2nd, your child will have a place where they can always go for explorative play, creativity, and learning. Get started on your World UFO Day fort in time for the holiday and have a summer blast!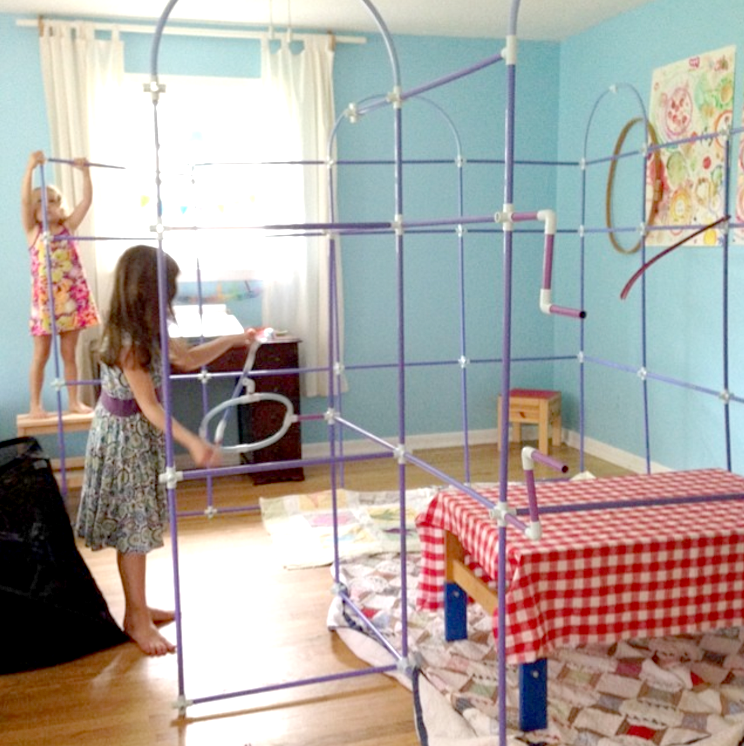 How will you and your children celebrate World UFO Day? Consider getting a telescope to check the sky for UFOs from your central control zone – a fort you all build together. Share your World UFO Day and fort building ideas with us below!
Pin It for Later!
Photo Credits:
Fort Magic Customer Photos via Facebook:  Visit our Fort Magic Facebook page to see our customer creativity shine with fun pics and videos of families enjoying their Fort Magic kit during playtime.
Fort Magic Customer Photos via Instagram:  Visit our Fort Magic Instagram page to see our customer creativity shine with fun pics and videos of families enjoying their Fort Magic kit during playtime.