Inspire Super Cool STEM Play With Kids Forts Ideas
Posted September 5, 2019 by Fort Magic
Careers in STEM fields are the fastest growing jobs with growth expected to remain high. But, how do you get your kids interested in learning STEM skills without forcing it on them? Here are our ideas so you can use your Fort Magic building kit to inspire STEM play using some of our play kids forts ideas.
How Forts Teach STEM Skills
One of the key components of STEM is stepping back and letting kids create with the materials. You can give your kids a fort building kit and let them create whatever their mind can come up with. Some of the important skills your children will gain by fort building are relationship building, learning from mistakes, creative thinking, independent thinking, confidence, and important problem-solving skills!
Take Your STEM Play Outdoors
A fun way to get your kids excited about STEM is to take their learning outdoors. There are what seems like endless opportunities in the great outdoors to teach your kids these important skills. You can use our play kids forts ideas below or see what you can come up with on your own!
1. Create A Planetarium Fort
First, build a simple fort structure such as the Playhouse Design. You'll want to make sure that your fort is flat on top. Next, cover the top in black paper. You can use either rolls of thick paper or tape construction paper together and then attach it to the top of your fort as the roof. Next, use a piece of chalk to mark out several constellations such as the Little Dipper and a few other common ones.
Take a string of white lights and pop through each light where you have marked the constellations. These lights will be your stars. Set up your fort with blankets and pillows and bring your kids out there at night to see the constellations you created. You can use this in conjunction with learning about astronomy to see if they can name the constellations you created. If you live in a rural area away from city lights then you can leave the top of your fort open so they can see the actual night sky.
2. Create A Butterfly Garden Fort
We all love visiting the butterfly gardens at the local zoo. What can be more fun than bringing that into your very own backyard? You can get creative with the decorations inside your fort to make it fun and whimsical for your kids. Set up the inside of your fort to attract butterflies with special flowers and sticks to rest on. We suggest covering your fort with a light material or cellophane to allow sunlight in.
You can also set up your butterfly hatchery inside so your kids can watch the caterpillars go through each stage of their life cycle. When they have turned into butterflies, release them into your fort that you have set up. Have your kids document everything they see on a daily basis and draw out what they observe, such as when the caterpillars turn into pupas.
3. Learn Science and Math with A Cooking Fort
What better way to learn about science than with stuff you can eat? Cooking is a fun way to teach your kids about science and math. If your kids are smaller you can start with simple measurements to teach math skills. You can explain how ingredients react with each other to rise such as how baking powder causes cupcakes to expand. These are called chemical reactions.
Another fun example is what cooking does to an egg and how it changes on a molecular level. This is called states of matter. The cupcake batter is a liquid and then when it's exposed to heat it becomes a solid. Since most of us don't have an outdoor oven, we suggest you can set up the fort to be the food preparation and learning area and then carry things into your house to cook.
4. Inspire Them by Your Own Memories
For most of us, forts were a huge part of our childhood. Some of us built clubhouse forts in our backyards using old carpet samples and whatever other materials we found. Some of us built forts out of old sheets draped over living room furniture.
Tell your children all of your own memories you have as a child of reading your entire book collection out in your fort or hosting meetings for your elite invite-only club. These stories will inspire your kids to create their own forts. Give them a Fort Magic building kit and see what sort of play kids forts ideas they can come up with to create their own special childhood memories.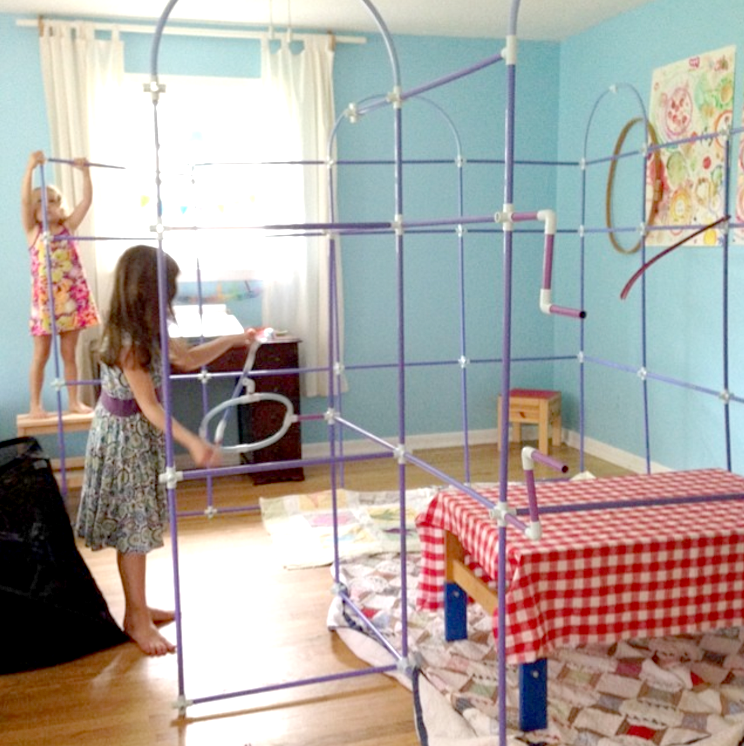 Photo Credits:
Fort Magic Customer Photos via Facebook:  Visit our Fort Magic Facebook page to see our customer creativity shine with fun pics and videos of families enjoying their Fort Magic kit during playtime.
Fort Magic Customer Photos via Instagram:  Visit our Fort Magic Instagram page to see our customer creativity shine with fun pics and videos of families enjoying their Fort Magic kit during playtime.