Large-Size Fort Building Kits Inspire Hours Of STEM Play
Posted June 25, 2023 by Fort Magic
STEM is a word you hear everywhere when you have kids. You have seen toys that help with STEM development, probably heard it on television, and read about it in magazines. Your child's teacher has also most likely stressed the importance of STEM development in your child's learning. But how can you get your kids interested in STEM without forcing the ideas on them? Bring out the Fort Magic large-size fort building kit.
Our large-size fort building kits are perfect for working on STEM skills and having fun. They are suitable for all ages and will provide your children with hours of fun.

A Large-Size Fort Can Help With STEM Skills
One of the main points in STEM is letting your kids create and use their own minds and creativity. You can pull out the Fort Magic fort building kit and let them create whatever comes to mind. Some of the skills your children learn by building forts can include relationship building, learning from their mistakes if something doesn't work, and creative thinking by designing their own fort. They will also build confidence in their creations and problem-solving skills! What other toy in your home can do all that while being fun at the same time?
Indoor Fort and STEM Play
Indoor forts are a great idea if the weather outside is not cooperating. Whether it is rainy or way too hot, Fort Magic can save the day.
Let your kids create a spaceship indoors. This can allow them to get creative. If they need a guide, check out the manual that is included in their fort kit. Once the spaceship has been built, have fun creating a cover with them. You can then pull out books about space and the stars. Read up on the different plants and have fun talking about being an astronaut and other careers that involve space. Your kids can create an alien to go with their spaceship and discuss what they think they know about them. This is a great way for kids to play and learn.
Still Stuck Indoors?
Another indoor fort idea can be a helicopter and plane. This might be a little more complex to build, but have your child use their imagination and problem-solving skills to make it work.
You can then discuss the importance of planes and pilots, such as how they are used for travel, as well as crop dusting and cargo shipping. Ask your child if they have ever dreamed of being a pilot or even building a plane. Spark their interest in a career that is centered around STEM.
Outdoor Large-Size Fort Ideas
When the weather allows, we all love to move the fort building outside. Kids love playing outdoors and as parents, we love to keep them busy and engaged. Gather all your fort building supplies and have the kids get to the building!
A fun outside fort is a lemonade stand! This is a great way for your kids to learn a little science and math. They can help measure the ingredients needed to make the lemonade. You may also add in some simple cookies to bake like peanut butter or chocolate chip. Having your kids' help bake and cook can help with science and math skills.
Once they have their stand built, have them make a poster to put on their fort. They can then offer their lemonade and cookies for sale or for free, whatever they decide. They will enjoy having the neighbors come to enjoy their yummy treats, and they can show off the skills they have learned. Encourage your kids to try and get rid of everything they made that day and ask for feedback from your customers.
This is a great way for kids to have fun while learning with their large-size Fort Magic fort building kit.
What's Better than a Fort & Water?
One more fun and creative way to build STEM skills outside is a fun water park fort build. Do you have a kiddie pool or a slip and slide? Have your kids pull out the water toys and water hose. Then they can build a fun fort and cover it with tarps that can get wet. Once done, they can put on their bathing suits and grab the bubble wands and your kids are set for the hot summer day.
They can use their creativity to incorporate the slip and slide down the middle of their fort city. Maybe they want to build a fort around the pool to have some fun in the shade. Forts and water always make a fun time.
To top the day off, offer a yummy treat such as a popsicle for the kids to enjoy in their creation. If you want to get more into STEM careers, you can discuss the importance of architects and how they create buildings for us to live and work in. Maybe this can be a career option for your little one.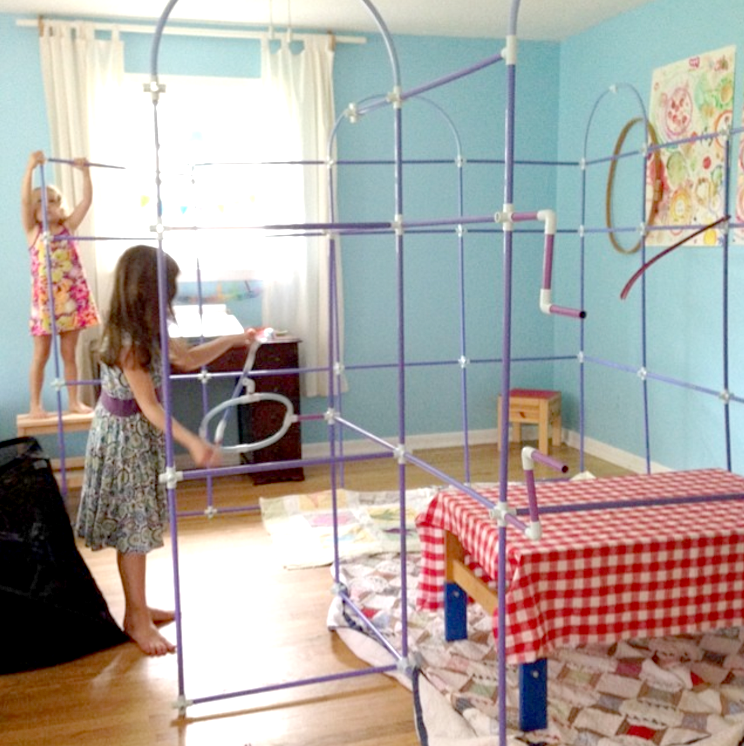 Making Memories
Building forts with a Fort Magic kit is a great way to make memories with your children. They will remember all the backyard forts, the reading nooks, playhouses, and automobile designs they have made.  Chances are, they will not realize they are learning as they are building and you are helping set them up for a future with a STEM-related career.
If you have more ideas on how fort building with our kits can help your children with their STEM skills and learning, let us know. We love hearing from our customers about the way they use our kits.
Pin it For Later!
Photo Credits:
The Artful Parent Blog: One of our absolute favorite creative blogs for children and families.  The Artful Parent blog is filled with simple ideas to fill your family's life with art and creativity.  A must-see blog for sure.
Rave & Review Blog:  The fun Rave & Review blog is where you'll find loads of sharing on your favorite products for parents and grandparents all the way to newborns.
Fort Magic Customer Photos via Facebook:  Visit our Fort Magic Facebook page to see our customer creativity shine with fun pics and videos of families enjoying their Fort Magic kit during playtime.
Fort Magic Customer Photos via Instagram:  Visit our Fort Magic Instagram page to see our customer creativity shine with fun pics and videos of families enjoying their Fort Magic kit during playtime.