Spark Invention & Creativity With Children's Fort Building Kits
Posted February 20, 2019 by Fort Magic
Studies show that creativity is the one tool you can give your kids to ensure they have a successful and happy future. Fort building will equip your children with the tools they need to have a bright future. We're going to show you how one of our Fort Magic building kits can change your child's life by teaching them creativity.
The Importance of Creativity in Your Child's Future
The workplace is quickly shifting to one that favors creative thinkers. In fact, creativity is the one trait in the coming years that will help your kids thrive in the workplace. If you want to see your child grow into a successful adult, give them the gift of tapping into their creativity and learning how to be a creative thinker.
How You Can Help the Creative Process
Creativity is a process and it takes time to get in the creative mode. If your child isn't used to being creative, then it will take more time for them to learn how to get into a creative space. Your child might even be resistant to it in the beginning.
Once you set out a fort building kit and start building something, they'll want to jump in on all the fun you're having. You can help them at first and then slowly step back and let them take over. Soon, their creativity will start flowing without your help at all!
Help Your Budding Inventor
Some of the top traits for successful inventors include being able to detach themselves from their ideas, testing their ideas, and not giving up. All of these traits are fostered through the use of fort building. You give your child the tools and they're the ones who are responsible for coming up with ideas and testing their ideas.
If their idea fails to produce what they hoped, they can easily start over and keep working until they see their idea come to fruition. Fort building and hands-on learning are important tools to help your child learn the necessary skills to become a successful inventor.
Creativity is Also Important for Everyday Life
Life is full of obstacles and if you want your child to thrive as an adult, you will encourage their creativity. Creative thinkers tend to get to that obstacle and find a way around it, whereas someone else might just give up. Being creative uses a different part of our brain than doing everyday functions.
It also allows for de-focused attention and other processes to take over in our brain. This means that creativity helps us not only use our entire brain but also helps us to have a healthy outlet and break from everyday life. Teaching your kids creativity will help them to have a happier and more fulfilling life.
Your Child Can Change the Future
Have you ever thought about how we got to where we are today as a people? If we weren't creative, then we wouldn't have written language, wheels, cars, books, etc. We would be boring and only concerned with surviving.
Have you ever thought about the fact that your child has the power to change the future? When you teach them creativity and cultivate their desire to fill needs, they can, in turn, create things that will make life better for everyone. They could create a new technology that could save millions of lives-all because you encouraged them to build forts when they were younger.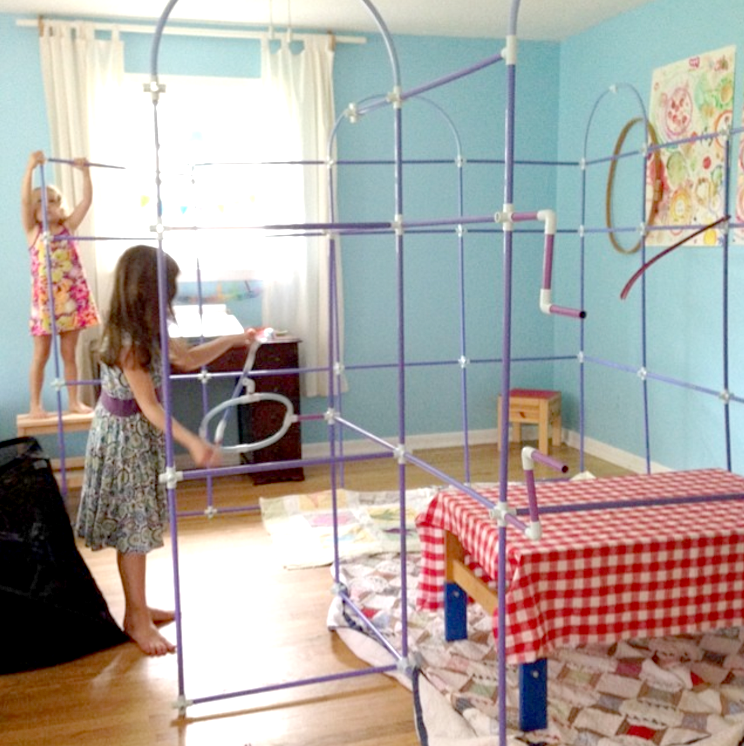 You Can Teach Your Child How to Be Creative
In the past, we've always referred to someone as creative when they could draw well or make astonishing creations with Legos. However, studies are starting to show us that everyone is creative. It's part of who we are.
The important part is learning how to harness that creativity and a successful way to do that for your child is with fort building. Studies also show the best way to learn creativity is to do so in an environment that focuses more on the process and not the end result. When your child is building, make sure you praise their creations and their efforts regardless of whether or not it was a "success".
Help Your Child to Lead a Fulfilling Life
One of the most common Google searches includes people trying to find their purpose or how to feel fulfilled. Creativity will empower your child to feel like they are part of something bigger. It doesn't matter how you create something, the act of creating something will help your child feel fulfilled.
They used their own two hands and the power of their mind and created something from a few pieces. Creating something will help your child gain a sense that they are contributing to the world around them.
Photo Credits:
The Artful Parent Blog: One of our absolute favorite creative blogs for children and families. The Artful Parent blog is filled with simple ideas to fill your family's life with art and creativity. A must see blog for sure.
Rave & Review Blog: The fun Rave & Review blog is where you'll find loads of sharing on your favorite products for parents and grandparents all the way to newborns.
Fort Magic Customer Photos via Facebook: Visit our Fort Magic Facebook page to see our customer creativity shine with fun pics and videos of families enjoying their Fort Magic kit during playtime.
Fort Magic Customer Photos via Instagram: Visit our Fort Magic Instagram page to see our customer creativity shine with fun pics and videos of families enjoying their Fort Magic kit during playtime.