STEM Fort Building Goes Next Level With Fort Magic
Posted April 9, 2021 by Fort Magic
Teaching your kids tough subjects is never easy but if you can make learning fun your kids are more likely to retain the knowledge. Having your kids engaged in entertaining activities can help them learn naturally. Fort building with our Fort Magic Kit is a perfect way to have kids work on their STEM skills while they also learn to work together and share.
What are STEM Skills?
STEM is an acronym that is used for the 4 subjects, science, technology, engineering, and mathematics. These are all fields that are sure to have the potential for your kids as they grow older. Teaching STEM skills to children at a young age can help prepare them for the future and secure a career when they are old enough. A hands-on activity such as building forts is a way to encourage these skills and help your children learn while having fun.
Fort Building and STEM Learning
When your children are playing with forts it requires a planning process. The planning process can include where the fort will be built, what size sticks and how many you will need to build, as well as what materials you will use as covers. The fort will need to be a certain size to accommodate the space they are building in.
This can help kids learn about sizes, shapes, and measuring. When kids are designing their fort it may be easier to have them draw the design on paper. Then, they can write down exactly what they are wanting to do.
Problem -Solving with Forts
Problem-solving is involved in all of the subjects involved with STEM learning. You can help your children work on their problem-solving skills while building a fort! Giving your kids a Fort Magic fort building kit and allowing them to build a fort with minimal assistance from you is a great way to work on these skills.
Fort building is fun for the whole family, and while you may be tempted to jump in on the fun, allowing your kids to figure out what works and what doesn't can encourage your kids. This makes them think harder, work harder, and find solutions.
If you see your younger kids struggling it is okay to step in and guide them, but ultimately let them do it. One way to do this is to give them multiple things to chose from when fixing their fort building problem. Give them 2-3 options for sticks and covers to see what fits the best. Allowing them control over the build gives them a sense of victory and accomplishment.
Critical Thinking with Forts
When your kids are first starting the process of building a fort, they have to decide on the shape. Will they have a rocket, an alien, a castle, or a carriage? Maybe a simple hideout or an elaborate fort with many rooms. The possibilities are endless but whatever they decide will take some critical thinking on their end.
They have to think of a plan and how they will execute it. Watching your kids work together and overcome some minor disagreements in this process will help with their skills also. They will eventually share ideas and work together and have the perfect fort to play in for hours to come.
STEM Fort Building Helps Creativity
STEM skills are also about kids thinking above and beyond the obvious. Building forts with a Fort Magic fort building kit can bring out the creative side in your kids. Making forts requires them to think about what they want, what texture cover they want, what colors they will use, how they will decorate the inside, and so much more.
Their imagination can run wild when it comes to fort building because anything is possible when they put their mind to it. They can discover new shapes and forts as they build. This, in turn, can fuel the desire to make more new discoveries as they grow older.
More Ways to Work On STEM Skills
No matter what kind of forts your children are building, they will also be working on their STEM skills without realizing it. The time they spend building will be strengthening their design and engineering skills. If you want other ways to keep them busy you can add in a few fort challenges for them.
Who can build the oddest shaped fort? What about the longest or the tallest? Who can build the fastest? Who can use the most pieces or the least amount of pieces?
If they have mastered the art of building one-room forts, challenge them to build one with multiple rooms. Also, challenge them to build a fort their sibling or friend will love.
Fort Building with Fort Magic
Now that you are aware of how fort building can help your kids with their STEM skills, it is time to learn more about fort building. When you are building, you first want to have the kids sketch out a design. Your kit includes a book with over 30 ideas to get them started if you have littles that are struggling with ideas.
The next step is to gather the materials you will need. This includes pieces of the kit and what you will use as covers. Covers can be purchased separately or you can use old towels, sheets, blankets, curtains, and scarves. Then you should gather your inside decorations, such as pillows, blankets, and stuffed animals, to make it cozy.
Once you have the materials gathered, it is time to build. This is easy with our kit as it includes connectors that easily connect the sticks. Clip the fabric clips on once your shape is built and add your covers. Now it is time to play! Your kids can take books and toys in their fort or they can dress up and make the fort a fun castle and play space.
Pin it for Later!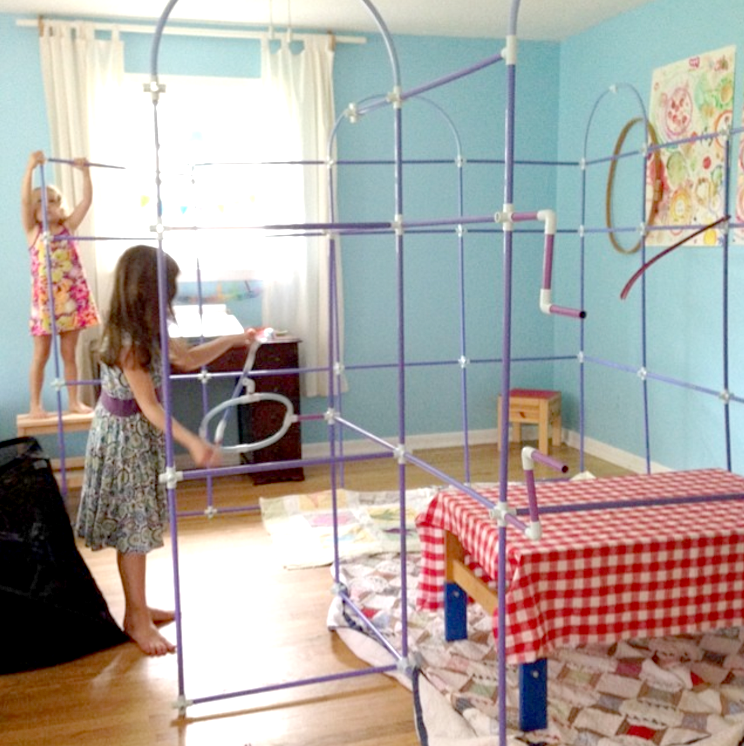 Photo Credits:
Fort Magic Customer Photos via Facebook:  Visit our Fort Magic Facebook page to see our customer creativity shine with fun pics and videos of families enjoying their Fort Magic kit during playtime.
Fort Magic Customer Photos via Instagram:  Visit our Fort Magic Instagram page to see our customer creativity shine with fun pics and videos of families enjoying their Fort Magic kit during playtime.